This horrendous legislation, if passed in Congress, guarantees the opportunity to steal elections on a grand scale. Every illegal and unfair practice used in 2o20 will become law if this bill becomes law. The House passed it so now it must be stopped in the Senate. This is dangerous, unconstitutional legislation and we have the power to stop it. 
Election Integrity
True election integrity will come through ensuring our election is secure from illegal interference and fraudulent abuse and it will, and must, be done on a State Level not a Federal level.  Several states are already introducing legislation to do just that. You can help by contacting your State Representative and State Senator and let them know you want secure, legal elections.  Several organizations are doing great work on this issue, making recommendations to ensure our elections are secure and confidence in our electoral system is returned. There is a great article by former Vice President Mike Pence on the importance of Election Integrity.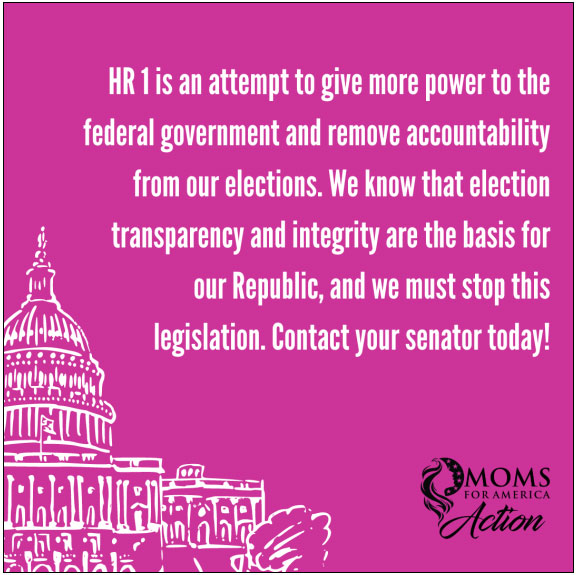 Safeguard Our Democracy
Speaker Pelosi is rallying the House Representatives to vote for a newly crafted legislation H.R. 1. "For the People Act"  (AKA "Corrupt Politicians Act") that will make illegal, fraudulent voter activity even easier. Speaker Pelosi is rushing the vote through and Kamala Harris will cast the deciding vote. While they make it sound good with their carefully crafted language, the truth is, it is an attempt to silence our voices at the voting booth. This MUST-READ Article by Joy Pullman sums up the radical nature of this bill to completely destroy honesty and integrity in our elections.
15 Insane Things In Democrats' H.R. 1 Bill To Corrupt Elections Forever (thefederalist.com)
What Can You Do?
Contact your United States Senators and let them know you do not support HR1 or anything that interferes with the integrity of our elections. You can use this very easy link to contact YOUR Senator Contact Senators
Share this with your friends and on your social media platformsProvisions of H.R.1 (S1 in the Senate)
Provisions of H.R.1 (S1 in the Senate)
H.R. 1 would federalize our election processes, which are currently run by the states — This is D.C. politicians' way of trying to make sure the outcome remains in their favor for the long term. Politicians already in Washington should not be choosing who goes to Washington—voters should!
Eviscerates state voter ID laws that require a voter to authenticate his identity. "For the People Act" forbids states from requiring voter ID to vote. Here is a direct quote from the Bill "A state may not require an individual to provide any form of identification as a condition of obtaining an absentee ballot."
Unchecked Voter Identification — States will be required to register voters on the day of elections and instead of requiring voters to bring ID to the polls, H.R. 1 allows for people to simply "sign a statement" confirming identification. With no buffer-period to verify personal information, this provision could easily lead to voter fraud.
Forbids states from validating mail-in ballots as outlined in the Bill a "State may not require notarization or witness signature other formal authentication (other than the voter attestation as a condition of obtaining or casting an absentee ballot."
Helps Socialist Elites in Elections — H.R. 1 is designed to fund, elect, and maintain socialist elites in Congress, it even allows for using taxpayer dollars to fund candidates.
Removal of Redistricting Power — Under this bill, the power to draw congressional districts would be given to an unelected third-party, taking all over site away from the voter and the people they elect to represent them.
Automatic Registration of Ineligible Voters — H.R. 1 interferes with states' abilities to determine qualifications for voters and destroys the accuracy of voter registration rolls. It not only allows, but also promotes, non-citizens to vote.
No Accountability for Vote Counting — Destroys the sanctity of the election process and endangers our democracy by requiring ballots to be counted outside the county's precinct.
Felon Voter Registration — Upon release from prison, felons are automatically allowed to register as voters.
Paid Salary out of Campaign Funds — Allows candidates to be paid a salary out of their campaign funds…the same campaign funds that would now be funded with taxpayer dollars. Taxpayers already pay Congressmen a salary—but now politicians want to double-dip!
More Info
Election Integrity | Heritage Action For America
H.R. 1, "For the People Act" One Pager – Concerned Women for America
Five Reasons to Oppose H.R. 1, Democrats' Attempt to Consolidate Power | Americans for Tax Reform (atr.org)
Voter ID–Commonsense
Ami Horowitz: How white liberals really view black voters – Bing video